Bug-Off - Wearable Barrier
Are insect repellent and sprays and patches too inconvenient to carry around? Are they ineffective against bugs despite their purpose? Thankfully, Bug-off is a patented new innovative textile from Japan that will solve your problems!
It has a long lasting effect that will deter bugs even after being washed and reused many times (up to 70 times). Even with rain or sweat soaking it, it is still able to repel bugs effectively so there is no need to worry about reapplying insect repellents. Therefore, it is good even for arduous activities such as hiking. Jogging or camping. It is also safe for children to use with its Ecotex safety license that certifies that it is odorless and tasteless.
Wearable Barrier-multifunction
-wear to eliminate unpleasant feelings-
Anti-bug coating "BUGOFF"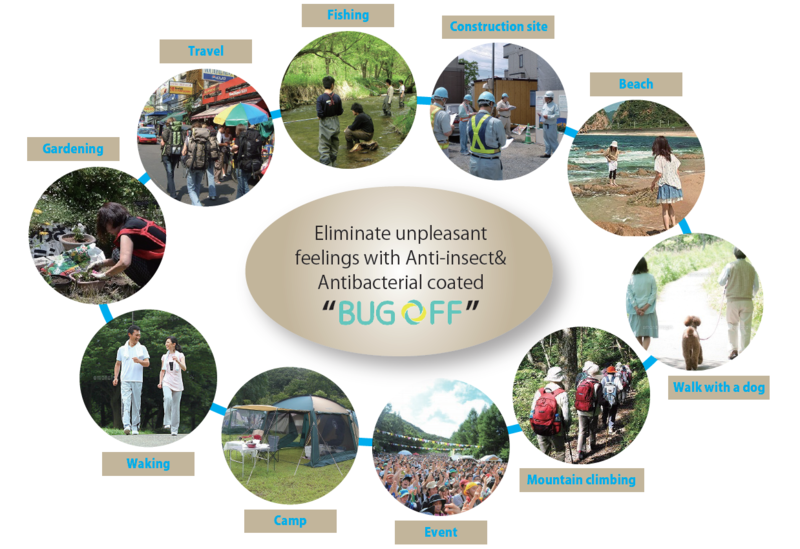 Lately anti-insect coating has drawn attention due to rapid increase of the Zika and
Dengue virus. The global warming and increase in travelers resulted in spreading of new
virus.
It is very important to aware of the self-protection daily for each individual.
BUGOFF will provide the environment to make insect away and keep them off from body
by creating barrier-like effect.
BUGOFF coating is applied to other special function materials such as cool effect,
quick-dry, UV protection, deodorant, is it possible to eliminate unpleasant feelings just
wearing single multi-function clothes.

Special coating made possible to apply anti-insect effect on textile.
Allow last high effectiveness for long time safely as ease with the nanostructured coating.
(Effectiveness last about 70time after washing)
This coating is also possible to use on other special textile such as cool effect, quick-dry,
UV protection etc…
This wear will be very useful at many occasions.